HIPAA and OSHA Compliance Solutions
OSHA and HIPAA Compliance Solutions for Dental and Medical Practices
Ensuring the safety, well-being, and compliance of your dental or medical practice is of utmost importance. As an owner, you bear the responsibility of overseeing the cybersecurity and compliance aspects of your dental or medical practice. With technology and staff transforming constantly- your office, virtual locations, and business associates need to stay compliant while keeping personal data safe.
We specialize in providing comprehensive Occupational Safety and Health Administration (OSHA) and Health Insurance Portability and Accountability Act (HIPAA) compliance solutions tailored to the unique needs of dental or medical practice.
OSHA Reporting Requirements — Streamlined and Efficient
Navigating OSHA reporting requirements can be complex and time-sensitive. OSHA mandates that workplaces under its jurisdiction promptly report work-related injuries and illnesses. We understand the critical nature of this responsibility.
In the unfortunate event of an employee's work-related fatality, regulations require employers to report the incident to OSHA, U.S. Department of Labor, within eight (8) hours. Similarly, in cases of in-patient hospitalization, amputation, or loss of an eye, the employer must report the incident to OSHA within twenty-four (24) hours.
Our consulting experts will ensure that your medical or dental practice complies with these reporting requirements seamlessly, providing peace of mind and minimizing administrative burdens.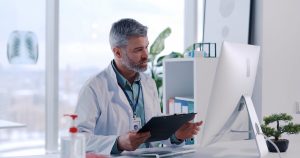 OSHA Record-Keeping Requirements — Comprehensive Compliance Made Easy
Recording work-related injuries and illnesses is a crucial aspect of OSHA compliance. Our OSHA compliance solutions go beyond reporting and encompass the intricate realm of record keeping.
Under the Occupational Safety and Health (OSH) Act, certain work-related injuries or illnesses must be recorded. These include cases involving death, days away from work, restricted work or job transfer, medical treatment beyond first aid, loss of consciousness, and significant injuries or illnesses diagnosed by healthcare professionals. Additionally, specific conditions such as cancer, chronic irreversible disease, fractured bones, or punctured eardrums must always be recorded.
Our team of experts will guide you through the complexities of OSHA record keeping, ensuring accurate and thorough documentation that meets compliance requirements. We make it easy for you to maintain comprehensive records without compromising the privacy and security of protected health information (PHI).
The Intersection of HIPAA and OSHA — Protecting PHI and Compliance Simultaneously
The intersection of HIPAA and OSHA poses unique challenges for medical or dental practices. OSHA's record keeping requirements may involve the recording of information that falls under the category of protected health information (PHI) defined by HIPAA.
Our comprehensive compliance solutions address this intersection with expertise and precision. The HIPAA Privacy Rule mandates covered entities to implement safeguards to prevent improper use or disclosure of PHI. While many employers are not covered entities, exceptions exist when it comes to OSHA record-keeping obligations.
Our team will guide you through the intricacies of complying with both HIPAA and OSHA regulations, ensuring that PHI is handled securely while meeting OSHA record keeping requirements. We understand the importance of maintaining privacy while fulfilling your compliance obligations.
Choose HIPAA and OSHA Compliance Solutions from an Equity-Centered Company
We understand the unique needs of decision-makers, key stakeholders, owners, and administrators within dental and medical practices.
Trust our expertise to guide you through the complexities of OSHA and HIPAA compliance, providing streamlined solutions tailored to your specific requirements. Contact us today to learn more about how we can support your medical or dental practice in achieving comprehensive compliance and reassurance.
Contact Us for HIPAA and OSHA Compliance Solutions
Contact Us
"*" indicates required fields