Grant Opportunity: Connect Your Community
By Chelsea Levesque, Director, Marketing and Communications, HCH Enterprises
In a groundbreaking move, the Broadband Equity, Access, and Deployment (BEAD) program has allocated a staggering $42.45 billion in grants to states, the District of Columbia, and territories. This monumental investment, a key component of the "Investing in America" agenda put forth by the Biden-Harris Administration, aims to provide affordable and reliable high-speed internet access to every American. By bridging the digital divide, this initiative, aptly named "Internet for All," will reshape our digital landscape, unlocking new opportunities and enhancing competitiveness on a nationwide scale.
Today, high-speed internet is no longer a luxury but a necessity, indispensable for work, education, and healthcare. The "Internet for All" program will enable communities to connect, fostering economic growth and empowering individuals across the country.
Through the allocation of funds, states, the District of Columbia, and territories can establish grant programs specifically designed to deploy or upgrade broadband networks. This critical step ensures that affordable and dependable internet service becomes accessible to everyone.
For comprehensive information on funding allocations tailored to each state, as well as further details on the Biden Administration's high-speed internet portfolio, we invite you to visit InternetForAll.gov. Stay tuned for the formal allocation notice, which Eligible Entities will receive on June 30, 2023.
At HCH, we are proud to be a part of this transformative initiative. Our organization champions equity and facilitates the grant process for communities. From acquisition to disbursement, we are dedicated to unlocking the full potential of our nation through the power of high-speed internet.
Join us on this journey as we pave the way towards a more connected and inclusive America. Together, we can harness the transformative power of high-speed internet, bringing us closer to a future where opportunities know no bounds.
#InternetForAll #NTIA #InvestingInAmerica #BroadbandEquity #PublicSectorConsulting #ConstituentsFirst #GrantHelp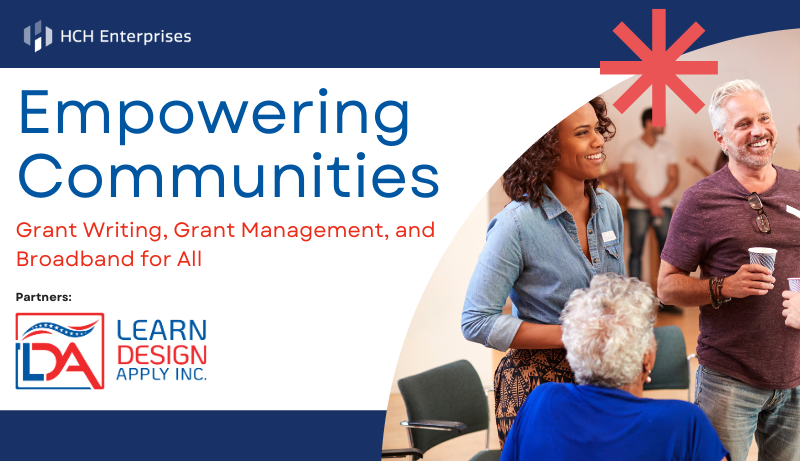 Gain a comprehensive grasp of effective grant writing and management, along with a deep appreciation for the pivotal role of broadband connectivity, through our enlightening webinar. Designed for professionals in both public and private sectors, this engaging session aims to enhance your knowledge and confidence in navigating the intricacies of grants while fostering the well-being of all communities.
Our interactive webinar delves into the fundamental elements of excelling in grant applications, navigating grant administration, and harnessing the transformative potential of broadband access for community advancement. Whether you're a dedicated government official, a passionate nonprofit leader, or a knowledgeable private sector consultant, this informative webinar equips you with the essential insights to drive tangible impact within your community and professional sphere.
Webinar Highlights:
– Unveiling the Importance of Grants in Fostering Community Growth
– Exploring the multifaceted benefits of grant funding for nurturing vibrant community development projects
– Real-world case studies illuminating successful, grant-supported projects
– Crafting an Effective Grant Proposal: The Basics
– Navigating Optimal Grant Management Strategies
– Showcasing Achievements of Grant-Supported Broadband Initiatives
– Engaging Q&A Session to Address Your Inquiries
Don't miss this invaluable opportunity to enhance your grant writing skills, gain insightful perspectives on streamlined grant management tactics, and recognize the life-changing potential of broadband connectivity for diverse communities. Secure your spot today and actively contribute to our mission of empowering communities and fostering sustainable progress.
Register now to embark on a journey towards understanding community empowerment and facilitating enduring growth!
---