Grant Opportunity: Connect Your Community
By Chelsea Levesque, Director, Marketing and Communications, HCH Enterprises
In a groundbreaking move, the Broadband Equity, Access, and Deployment (BEAD) program has allocated a staggering $42.45 billion in grants to states, the District of Columbia, and territories. This monumental investment, a key component of the "Investing in America" agenda put forth by the Biden-Harris Administration, aims to provide affordable and reliable high-speed internet access to every American. By bridging the digital divide, this initiative, aptly named "Internet for All," will reshape our digital landscape, unlocking new opportunities and enhancing competitiveness on a nationwide scale.
Today, high-speed internet is no longer a luxury but a necessity, indispensable for work, education, and healthcare. The "Internet for All" program will enable communities to connect, fostering economic growth and empowering individuals across the country.
Through the allocation of funds, states, the District of Columbia, and territories can establish grant programs specifically designed to deploy or upgrade broadband networks. This critical step ensures that affordable and dependable internet service becomes accessible to everyone.
For comprehensive information on funding allocations tailored to each state, as well as further details on the Biden Administration's high-speed internet portfolio, we invite you to visit InternetForAll.gov. Stay tuned for the formal allocation notice, which Eligible Entities will receive on June 30, 2023.
At HCH, we are proud to be a part of this transformative initiative. Our organization champions equity and facilitates the grant process for communities. From acquisition to disbursement, we are dedicated to unlocking the full potential of our nation through the power of high-speed internet.
Join us on this journey as we pave the way towards a more connected and inclusive America. Together, we can harness the transformative power of high-speed internet, bringing us closer to a future where opportunities know no bounds.
#InternetForAll #NTIA #InvestingInAmerica #BroadbandEquity #PublicSectorConsulting #ConstituentsFirst #GrantHelp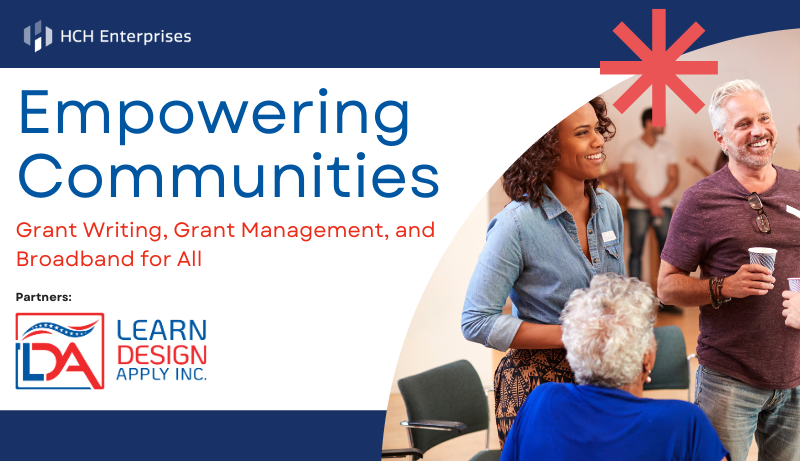 Gain a comprehensive grasp of effective grant writing and management, along with a deep appreciation for the pivotal role of broadband connectivity, through our enlightening webinar. Designed for professionals in both public and private sectors, this engaging session aims to enhance your knowledge and confidence in navigating the intricacies of grants while fostering the well-being of all communities.
Our interactive webinar delves into the fundamental elements of excelling in grant applications, navigating grant administration, and harnessing the transformative potential of broadband access for community advancement. Whether you're a dedicated government official, a passionate nonprofit leader, or a knowledgeable private sector consultant, this informative webinar equips you with the essential insights to drive tangible impact within your community and professional sphere.
Webinar Highlights:
– Unveiling the Importance of Grants in Fostering Community Growth
– Exploring the multifaceted benefits of grant funding for nurturing vibrant community development projects
– Real-world case studies illuminating successful, grant-supported projects
– Crafting an Effective Grant Proposal: The Basics
– Navigating Optimal Grant Management Strategies
– Showcasing Achievements of Grant-Supported Broadband Initiatives
– Engaging Q&A Session to Address Your Inquiries
Don't miss this invaluable opportunity to enhance your grant writing skills, gain insightful perspectives on streamlined grant management tactics, and recognize the life-changing potential of broadband connectivity for diverse communities. Secure your spot today and actively contribute to our mission of empowering communities and fostering sustainable progress.
Register now to embark on a journey towards understanding community empowerment and facilitating enduring growth!
---
Spending ARPA funds. Does your city have a plan?
It's been nearly two years since the passage of the American Rescue Plan Act (ARPA) — a $1.9 trillion economic stimulus bill including an allocation of $350 billion to help state, local, and tribal governments to address economic and health impacts of the COVID-19 pandemic. While ARPA's State and Local Fiscal Recovery Fund (SLFRF) dollars offer flexibility, it is important for all municipalities to have a plan in place, and the time to act is now — as cities and towns must obligate their funding by December 31, 2024.
How can municipalities spend SLFRF funds?
Cities and towns have many options for using their ARPA dollars. According to the U.S. Department of the Treasury, there are four separate eligible use categories. Local governments may use SLFRF funds to:
Replace lost public sector revenue, using this funding to provide government services up to the amount of revenue lost due to the pandemic.

Respond to the far-reaching public health and negative economic impacts of the pandemic, by supporting the health of communities, and helping households, small businesses, impacted industries, nonprofits, and the public sector recover from economic impacts.

Provide premium pay for essential workers, offering additional support to those who have and will bear the greatest health risks because of their service in critical sectors.

Invest in water, sewer, and broadband infrastructure, making necessary investments to improve access to clean drinking water, to support vital wastewater and stormwater infrastructure, and to expand affordable access to broadband internet.
More on SLFRF Rules and Regulations
As a municipality, it's important to understand how you can use ARPA funding — but that's only part of the equation. The more challenging element is determining how you should apply these dollars.
The goal for any municipality should be to capitalize on this tremendous opportunity for recovery in ways that meet the most prevalent needs of the community. The challenges many cities and towns face is — identifying those needs, and assessing the most effective pathways to meet those needs. Many communities are developing recovery and growth plans that involve: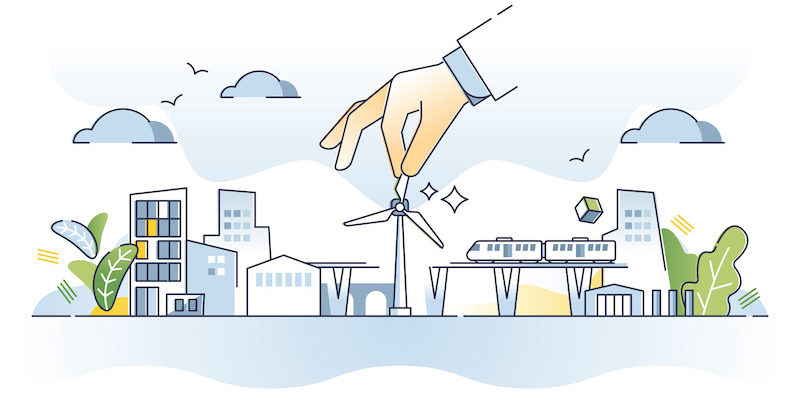 Constituent Communications — engaging with the people in their communities to assess needs and priorities.
Data Analysis — Collecting, organizing, and analyzing data points to gain insights to accelerate community recovery and equity.
Peer Evaluation — Reviewing what other similar communities have done and are doing with their ARPA funds, learning from their successes and challenges.
Compliance and Reporting — Ensuring projects meet the Treasury's requirements for suitability and that quarterly reporting requirements are met and timely filed.
Project Management — Defining a plan and developing the roadmap to deliver the intended outcomes.
How are cities and towns using their ARPA money?
As it's been nearly two years since ARPA's passing, there is more and more data on how these funds — specifically those of the State and Local Fiscal Recovery Fund — are being allocated. The Council of State Governments published a database of all state-level allocations of SLFRF funding. Additionally, there is a Local Government ARPA Investment Tracker project developed through a partnership between the National League of Cities, Brookings Metro, and the National Association of Counties pulling in data from ARPA projects from cities and counties with populations of at least 250,000.
According to data from the Local Government ARPA Investment Tracker, as of August 31, 2021, 150 local governments submitted 2,577 projects involving $18.5 billion in SLFRF funds. Specifically, these projects involve a number of spending categories:
Government Operations (37.6%)
Infrastructure (12.5%)
Housing (12.5%)
Community Aid (12.3%)
Public Health (12.2%)
Economic and Workforce Development (11.1%)
Public Safety (2.3%)
While information on how state governments and large cities are deploying their recovery funds is easily accessible, there is very little reporting on how small towns and medium-sized cities are making use of ARPA dollars. That's why it may be beneficial for small-to-medium cities and towns to work with consultants and project managers to help ensure they are using these SLFRF funds in the most meaningful and efficient ways.